Haringey Covid19 Vaccination Programme: FAQ
Thank you for contacting The Haringey GP Federation, the GP Federation in Haringey. We are working with GPs across Haringey to deliver a GP-led Covid19 vaccination programme from two main sites in Bounds Green and Lordship Lane.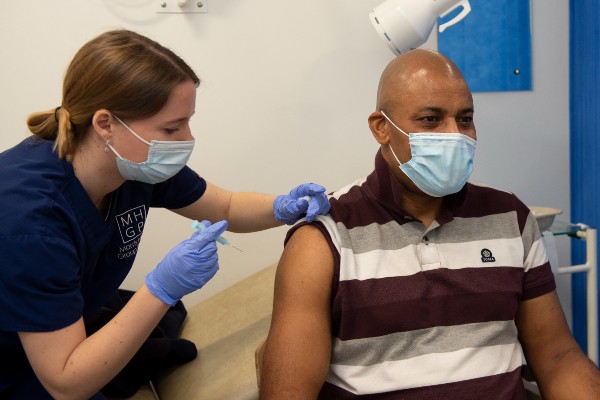 This is in addition to local community pharmacies and Hornsey Central Neighbourhood Centre which eligible patients can book into direct via this link.
We understand that many patients have questions and concerns about the vaccine. You can find the answers to the most frequently asked questions below and in the links provided.
Latest:
Eligible patients can call our Covid Vaccine Reception team to book a vaccine at either Bounds Green Group Practice or the Morris House Group Practice in Lordship Lane.
Call 07584 182181 or 07584 182581
You can also book a COVID-19 vaccination on the NHS website  or by calling 119.
Who is eligible
If you are...
You can get...
Aged 75+
An immunosuppressed individual
Spring Booster, ideally 6+ months after booster and no less than 3 months
Aged 18+
Aged 16-17 and:

a frontline health or care worker
at higher clinical risk COVID-19
an unpaid carer
a household contact of an immunosuppressed person
Two doses, at least eight weeks apart
Booster from three months (91 days) after second dose
Aged 12+ and were severely immunosuppressed at the time of early doses
Two doses, at least eight weeks apart
Third primary dose, typically eight weeks after second dose (timing may vary and should be discussed with a clinician – if you're eligible you can get this dose by visiting a vaccination site of your choice, and presenting a letter from your doctor confirming you're eligible)
Booster dose from three months after third dose
Aged 12-15 with a health condition that puts you at higher risk from COVID-19, or you are a household contact of someone who is immunosuppressed
Two doses, at least eight weeks apart
Booster dose under review
Aged 12-17 and you are not in any of the above groups
Two doses at least 12 weeks apart
Booster dose under review
First dose from 4th April
If you are eligible, please come forward for your vaccination now. NHS staff are prioritising booked appointments so, for most people, the best way to ensure you get jabbed is to visit the nhs website or call 119.
This also contains the latest information about who is eligible and alternative ways to get your booster
I would like to book my first vaccination
Please refer to the information contained in this link for information about booking your vaccine.
Tell the NHS about coronavirus (COVID-19) vaccinations you've had abroad
This service enables you to book an appointment to show evidence for any coronavirus (COVID-19) vaccinations you've had outside of England. This is so the NHS can securely update your vaccination record. Tell the NHS about coronavirus vaccinations you've had abroad.
How can I get proof that I have had the vaccine before I travel to a different country?
From 17 May, you may be able to show your COVID-19 vaccination status as proof of your status when travelling abroad. Find out how at the .GOV website.
Do not contact your GP surgery about your COVID-19 vaccination status. GPs cannot provide letters showing your COVID-19 vaccination status
Which vaccines are you using?
There are three types of vaccine which have been approved for use in the UK. These are the Pfizer vaccine and the AstraZeneca vaccine (also known as the Oxford vaccine) and Moderna vaccine. In Haringey we are predominantly supplied with Pfizer and Moderna.
Are the vaccines safe?
All vaccines approved for use in the UK have been through a thorough, robust testing process by the Medicines and Healthcare products Regulatory Agency (MHRA).
What do the vaccines contain?
They only contain what they need to help our bodies to produce an immune response immunity, to create the fighting cells and antibodies to protect us from the Coronavirus.
I've heard that the vaccine has unpleasant side effects.
As with any vaccine, it is normal to have very minor symptoms in the 24 hours after the vaccine. For example, some patients report a mild temperature or aches & pains. This is entirely normal and can be treated with paracetamol. You can find more details in this information leaflet produced by Public Health England.
Oxford/AstraZeneca vaccine: Reports of extremely rare blood clots
A review by the drugs regulator MHRA into reports of rare blood clots has resulted in the following conclusions:
These side-effects are extremely rare and the vaccine's effectiveness is proven – the benefits of taking the vaccine are still very favourable for the vast majority.
Official guidance is that it is preferable for healthy adults aged 18 to 29 to have a vaccine other than AstraZeneca.
On 7 May, the JCVI updated its guidance and now advises that all adults aged 30-39 without underlying health conditions should receive an alternative to the Oxford/AstraZeneca vaccine where available and only if this does not cause substantial delays in being vaccinated.
Under-40s will be offered an alternative Covid jab to the AstraZeneca vaccine when they become eligible for their vaccine. This is because the risk to younger people from Covid itself is much lower than for older people.
People outside of the 18-39 age bracket who have had their first dose of the AstraZeneca vaccine should still get their second dose. If you have already had a first dose of AZ vaccine without suffering this rare side effect you should complete the course, however, exceptions can be made where those who do not wish to have another AstraZeneca vaccine may have Pfizer instead as a second dose.
People with blood disorders that leave them at risk of clotting should discuss the benefits and risks of vaccination with their doctor before going for a jab.
Any under 40s with underlying health conditions who have been invited for their vaccine should also seek their GPs guidance in respect of the risk/benefit balance of the vaccines which are currently available.
Advice if feeling unwell after vaccination
It is normal to have minor symptoms in the 24 hours after receiving the vaccine, the vast majority of which can be treated with paracetamol. Extremely rare symptoms are listed below. Call 111 immediately if you get any of these symptoms starting from around four days to four weeks after being vaccinated:
a severe headache that is not relieved with painkillers or is getting worse
a headache that feels worse when you lie down or bend over
a headache that's unusual for you and occurs with blurred vision, feeling or being sick, problems speaking, weakness, drowsiness or seizures (fits)
a rash that looks like small bruises or bleeding under the skin
shortness of breath, chest pain, leg swelling or persistent abdominal (tummy) pain
Find out more about COVID-19 vaccination and blood clotting on GOV.UK
I am taking other medication. Is it safe for me to have the vaccine?
When you are invited for your vaccination appointment, staff at the vaccination centre will explain the vaccination process to you and ask you about your medical history, for example about any medications you are taking or allergies that you might have. There are very few reasons you cannot receive a vaccination. This discussion is to make doubly sure that the vaccine is OK for you to receive on the day of your appointment. No one will be given a vaccine if it is unsafe for them.
Where can I find information about the vaccination programme in my own language or relevant to my own culture?
Please see below for links to helpful materials:
Dr Ikenna Uchenwoke, GP at Lawrence House Surgery in Tottenham, talks about why it is so important to get the vaccine when it is offered to you by the NHS. Watch video.
Bulgarian language video by experienced London GP video supporting Covid vaccination. Watch video.
Imam Ajmal Masroor talks about the importance of the vaccine. Watch video.
You can find videos in many different languages at this NHS website.
Where can I find more information about the vaccination programme in Haringey?