Highly Commended – HSJ Primary and Community Care Provider of the Year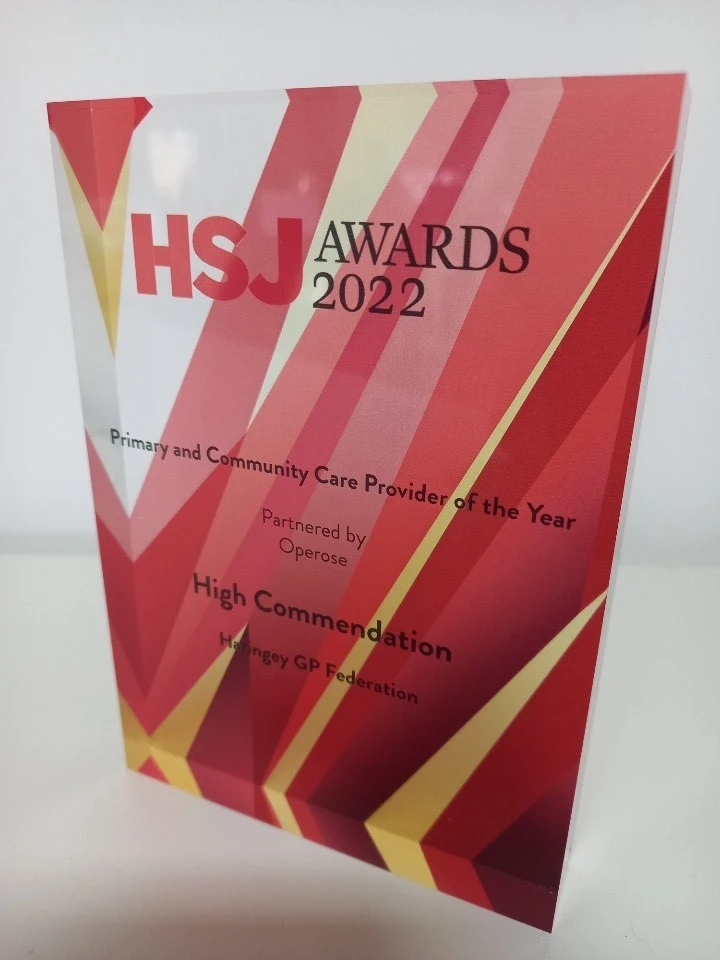 We are delighted to announce that Haringey GP Federation was highly commended at the at the HSJ Awards 2022 in the Primary and Community Care Provider of the Year category.
This recognises our work supporting member practices, innovating and collaborating to develop integrated services with system partners that improve health outcomes and address health inequalities for our diverse population.
It also acknowledges our approach to growing talent within the organisation. Gaining recognition in this highly competitive category is a testament to the hard work of Federation staff and is an achievement we are very proud of.
The HSJ Awards have a 42-year heritage of sharing best practice, improving patient outcomes and celebrating better service.  In 2022 there were 1,040 entries across 25 categories. 
HSJ Editor Alastair McLellan said; "I'd like to offer my congratulations to the Haringey GP Federation on being Highly Commended in the Primary and Community Care Provider of the year category at this year's HSJ Awards. Our awards programme is not just a celebration of success stories but also a platform to shape the future of the NHS. 
"It is always so encouraging and heartening to see projects adapting, developing and improving their services with the vision of providing the very best in treatment and for their patients across the country."
Many congratulations to all the nominees and winners, particularly Morris House Group Practice who won the award for Covid Vaccination Programme.
For more information on the HSJ Awards visit the website
Published: Nov 23, 2022