Jalak Shukla – HSJ Clinical Leader of the Year
Federated4Health is delighted to share the news that Jalak Shukla, our lead clinical pharmacist, has been named as the Clinical Leader of the Year at the HSJ Awards.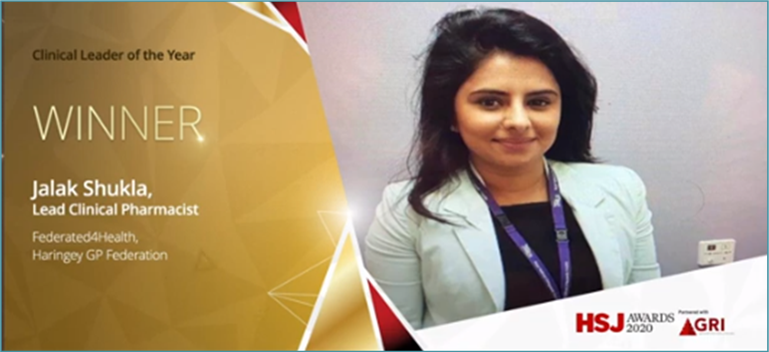 The annual HSJ Awards recognise healthcare service excellence in the UK and importantly provide a well-deserved thanks to the sector.
The judges praised Jalak for her 'outstanding implementation' of embedding pharmacists in general practice which 'clearly encouraged others to overcome challenges in leadership, moving to more professionally diverse clinical leadership in primary care'.
Dr Will Zermansky, Medical Director for Federated4Health said 'We are delighted with the national recognition for Jalak's hard work, dedication and innovation. Her exemplary leadership has resulted in establishing an extremely effective pharmacy team, with her approach being adopted as best practice beyond Haringey. We are so proud of Jalak and her team.'
We are also very happy to share that Federated4Health's Clinical Pharmacy Team was shortlisted for 'Workforce Initiative of the Year'.
Clinical pharmacists are a key part of the general practice team in Haringey's primary care networks, working alongside GPs and nurses, seeing patients and using their expertise to get the best health outcomes for people from medicines.
We are delighted to see our team receive this well-deserved recognition at the HSJ Awards.
Congratulations to Jalak and all our clinical pharmacy colleagues.
Find out more at the HSJ website.
Published: Mar 22, 2021