Vaccine sites up and running in Haringey
Since December, residents across Haringey have been receiving their Covid19 vaccinations at clinics in Bounds Green and Lordship Lane.
First to receive their vaccines were older people across the borough and frontline health and social care workers. Federated 4 Health has been working closely with GP Practices throughout Haringey to coordinate the vaccination programme here in Haringey.
The team at the London Islamic Cultural Society – the biggest mosque in Haringey – were among the first to recognise the huge effort that is taking place to make sure everyone in Haringey receives the vaccine. Their generous donation of lunch for vaccination staff at the Lordship Lane Primary Care Health Centre was welcomed by Dr Russell Hearn on behalf of the whole team.
Imam Ajmal Masroor from the Mosque accompanied his elderly mother during her vaccination appointment this week. You can see their experience and hear the Imam's encouraging words in a video he has published on YouTube: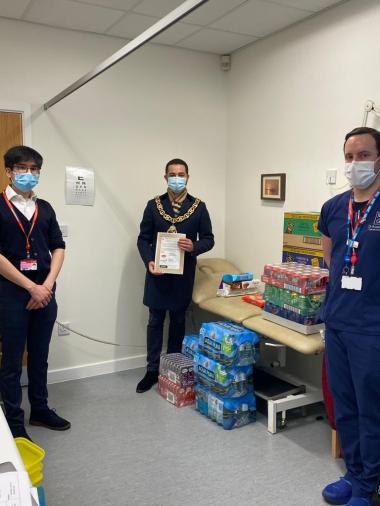 Haringey Mayor Councillor Adam Jogee also took time out of his busy schedule to pay a visit to the hard working team at the Lordship Lane vaccination centre. After his visit he recorded a special message to the people of Haringey encouraging us all to have the vaccine as soon as it is offered.
Published: Jan 22, 2021