SATs Probe Delivery Service
A swift and sustainable service delivering pulse oximeter blood oxygen saturation monitors, to Covid19 patients at home 

The rise in infections during the Covid19 second wave in the autumn of 2020 created an increasing demand on GPs.  One pressure point quickly identified was the care and monitoring of Covid19 patients who were self-isolating at home. How could GPs obtain the reliable clinical data they needed – like body temperature and blood oxygen levels – to reassure patients and to make referral decisions for those who needed it?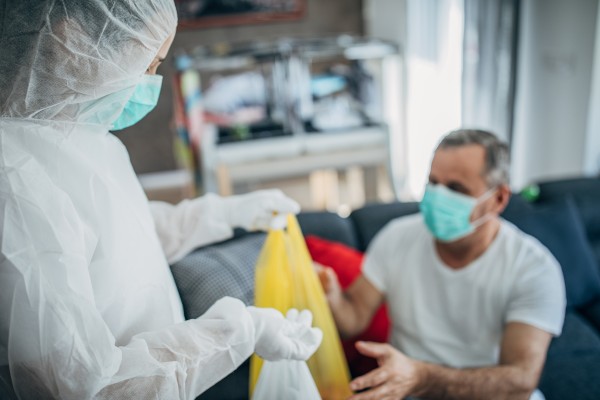 The answer? A courier service to deliver clinical equipment to Covid19 patients in their own homes. 
Equipment
Finger Pulse Oximeter (SATs Probe)
A single use thermometer
Instruction guide
The Haringey GP Federation identified a potential courier partner in Haringey-based cycle charity Wheelytots who had the right equipment, people networks and capacity to deliver the service. 
Backed up by a simple yet effective standard operational procedure put in place by the Federation, Wheelytot couriers quickly set to work to ensure they could operate safely and provide the level of support patients needed.  
Acting as the link between GP and courier, the Federation enabled a flexible, scalable delivery service that was able to adapt to the changing demands of the pandemic and ensured that GPs were able to safely monitor their patients' symptoms with reliable, clinical data. 
An added benefit was the 'green' and sustainable aspect of the solution – clinical equipment was collected once patients no longer needed, allowing devices to be cleaned and used again. 
The successful model established by the Haringey GP Federation and Wheelytots provides an excellent example of a simple, replicable innovation which can be used to good effect with other projects and services in the future.
Impact: October 2020 and March 2021
October – December 2020: 102 Finger Pulse Oximeters were delivered; 50 were collected.  
January 2021: The height of the second wave: 151 Finger Pulse Oximeters were delivered; 64 were collected.
February – March 2021: As the second lockdown took effect: 49 Finger Pulse Oximeters were delivered; 117 were collected.